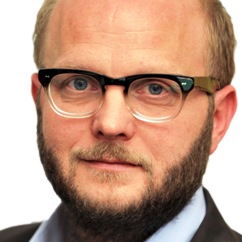 David Schraven (born 1970) has worked with some of the most popular newspapers in Germany (Die Tageszeitung, Süddeutsche Zeitung, Welt am Sonntag) as well as the international news agency Reuters. He was also co-founder of one of the most influential political blogs in Germany, Ruhrbarone.de.
For his investigations into the contamination of the Ruhr river in Western Germany, he was awarded a Wächterpreis (3rd) — comparable to the Pulitzer Prize — for investigative reporting.
From May 2010 until May 2014 David was head of investigations with the central content desk of Funke Mediagroup. The Funke Mediagroup is one of the biggest media outlets in Europe with around 17,000 employees. It publishes the daily newspapers Westdeutsche Allgemeine Zeitung, Neue Rhein Zeitung, Westfälische Rundschau, Westfalenpost, and many other papers.
In September 2001 he was a guest journalist with Time Magazine in New York City.
Since 2007 David is a member of the board of Netzwerk Recherche, Germany's association of investigative journalists. Since 2011 he has been responsible for its financial management. With more than 500 members, Netzwerk Recherche is one of the world's largest organizations for investigative journalists (and a GIJN member).
David is a father of two sons. He lives in Bottrop, in the mining district of North Rhine-Westphalia.
As a candidate for the new board in GIJN, he says:
I would like to join the board of GIJN because I would like to help organize an international community of journalists who are able to support each other.

I think if the bad guys go global, so should we.
– We should initiate international cooperation, to follow the leads of international wrongdoers.
– We should teach each other new techniques and approaches in journalism, to get the most out of our cooperation.
– We should be open to hear from each other what is going wrong in the world, to find new points for our own stories.

If we do, I'm pretty sure we can have an impact with our stories and we will be able to give our audiences the opportunity to change some things.

My aim as a member of the board of GIJN is to strengthen its organization, to keep it open to a growing international community and to preserve its independence from governments and big companies, to reach the goals mentioned above.

Thank you very much for your support and your vote.